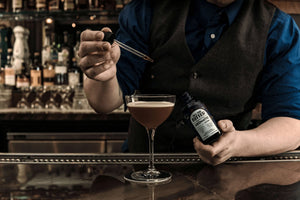 Classic Bitters For
Mindful Drinking
0.0% ABV | Organic + Wild
AS SEEN IN
Get The Set and Save
The Bitter Bundle
This set of award-winning bitters includes our Aromatic, Orange, New Orleans, and Lavender bitters—everything you need to shake up mindful cocktails, make bitters and soda, or spice up your favorite mixers like tonic and ginger beer.

All the flavor of classic bitters, without the alcohol, GMOs, added flavors, colors, or preservatives. Made entirely by hand with organic, functional herbs that may support digestion, liver health, and stress.

Save $17 on the 4-pack automatically and receive free shipping.
Get The Set
Let customers speak for us
Lavender Bitters
This one is my favorite! So good and relaxing!
Love the bitter bundle
What a nice selection of flavors. Love to add to sparkling water, cocktails or even ice cream? The little toy dinosaur gift was especially endearing and I keep it at my work desk.
Perfect Size
These bitters not only taste great, but are great to travel with!
Delicious!
We are living these bitters! Seriously upgraded our mocktails!
Great product and mixed really well with our Mahala Botanical Alcohol/Free spirit
Wonderful bitters great with non abv spirits
Delicious and nuanced flavors
These are far superior to normal bitters. I can actually discern flavors more than just bitter. The New Orleans tastes like coke when mixed with sparkling water!
BEST BITTERS EVER
A forever fan of All The Bitter! Small batch goodness at its finest! Obsessed!
I'm Not a Bartender, Nor Do I Play One on TV
In recent years I've become a fan and proponent of a mostly nonalcoholic drink some friends of mine introduced me to some time ago: They called it a Surly Temple. It's a grownup take on the super-sweet Shirley Temple, which features ginger ale (or another clear, sweet soda), grenadine syrup, and a cherry. Served over ice in a cocktail glass, it was supposed to appeal to little girls out for dinner with their parents. It was always too sweet for me, and I've read its namesake didn't even like it. "Sicky sweet," or words to that effect, was her opinion.
In contrast, this grownup Temple is Surly: Soda water vs ginger ale, your choice of red juice (cranberry cherry, or pomegranate), and a few splashes of bitters. It's Surly, get it?
I sometimes order Surly Temples in bars, and I make them at home, too.
I work at Trader Joe's and we introduced a nice "classic" bitters some time back. It's quite inexpensive and it gets the job done. But of course it is about 40% alcohol.
Now it turns out a good friend of mine is in recovery from alcohol addiction, and I thought, is it possible to find alcohol-free bitters, so I can make Surly Temples he could drink?
A quick search yielded info on All the Bitter.
I perused and hemmed and hawed a bit, then I decided to spring for a bottle of the New Orleans style. It's very tasty!
Now, it's not fair to compair the TJs classic to the All the Bitter New Orleans, since they are different flavor profiles. And the TJs product is much less expensive. But I would opine that your bitters are quite delicious and less harsh than the TJs bottle. Well done! I'm very happy with this concoction!
Great for blending!
I like to add it along with other bitters to change up the flavor profile! Yummm!!
All The Best
As a bar owner I have tried many things on the market, only to be disappointed by the lack of quality and rather redundant flavors. All The Bitter simply defies gravity with bitters that hold their own in cocktails, adding the balance to the sweetness so often found in non alcoholic cocktails. If you want to level up your mocktail game All The Bitter is a must!
Love it!
Nice addition to the bitters line up! The tart cherry really comes through though well-balanced.
Fantastic
Love the flavor. Super easy to use. Made a delicious mocktail!!!
Got a beautiful bonus!
The flavor of the Lavender bitter was awesome but the sweet sleep I got when I added it to an evening cocktail, priceless!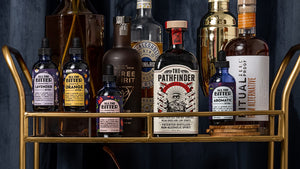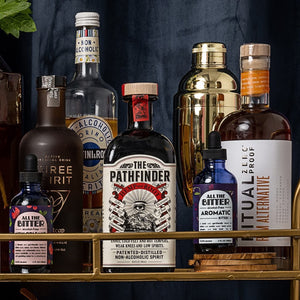 FOR INCLUSIVE HOMES AND BARS
An essential tool for the inclusive at-home host, our classic alcohol-free bitters taste great in full-strength, low-alcohol, or non-alcoholic cocktails. Makes a great bitters and soda, too!
Featured Mindful Cocktail Recipes
View all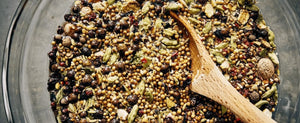 Organic herbs like dandelion root, milk thistle seed, and holy basil bring flavor and function together like never before.
Handmade, Small-Batch Bitters
Made entirely by hand, literally by a mom and pop. This is as "small batch" as it gets.
Premium, Organic Ingredients
Only the highest-quality organic or wild-foraged botanicals go into our bitters.
Satisfaction Guaranteed
We're so sure you're going to love All The Bitter that we'll refund you if you don't.
MINDFUL DRINKING BY
FRENCH LAUNDRY SOMMELIERS
All The Bitter's founders, Carly and Ian, spent years working together on the wine team at The French Laundry. Now they're excited to bring you the world's best tasting bitters—made with or without alcohol—crafted entirely by hand in small batches in Northern California.