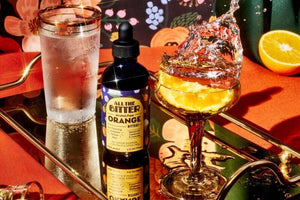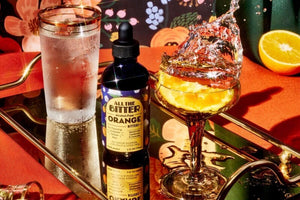 Cocktail bitters are the spice rack of the bar cart, and our zesty Orange bitters can be used in drinks with or without alcohol. Below are a few of our favorite ways to use them.
Bitters and Soda
Flavored sparkling water's more interesting, sophisticated cousin. Simply mix a few dashes of bitters with club soda to create a refreshing, botanical, bubbly sip that aids digestion.
Simple Mixers
Mixers like tonic and ginger beer are the perfect canvas to spice up with bitters. Just add a few dashes—as much or as little as you like—for a burst of flavor.
Agave Margarita
Ditch the triple sec and add a generous splash of our Orange bitters for a perfectly balanced, nuanced margarita.
Coffee and Tea
Bitters are a great way to add flavor, and digestive benefits, to coffee or tea without the added sugar of syrups. The perfect way to start your day!
Bitters and Beer
Our Orange bitters make an incredible addition to wheat beers, like a squeeze of fresh orange but better, with cardamom and coriander adding nuance.
Get More Recipes
There are a lots more recipes to discover! Check out the complete list of non-alcoholic cocktail recipes featuring our Orange bitters.
As Seen In